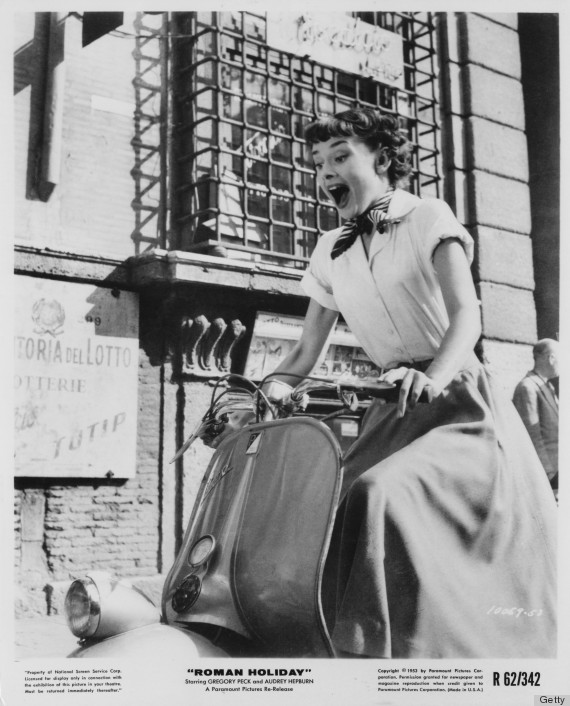 In 1953, Audrey Hepburn starred in the film that would skyrocket her glamorous career as a gamine icon of the silver screen. The film was Roman Holiday, a modern fairytale where European Princess Ann (played by Audrey Hepburn) takes off on a whim one evening in Rome. The royal lady falls asleep on a park bench and is found by an American journalist Joe Bradley (played by Gregory Peck).
He scoops her up off the streets to rest and wake up in the safety of his home. When she wakes up, Bradley realizes how he might benefit from their chance meeting. Following his journalistic impulses, he pursues an exclusive interview with the princess. Of course, movie magic sprinkles tinsel in the air and a romance ensues.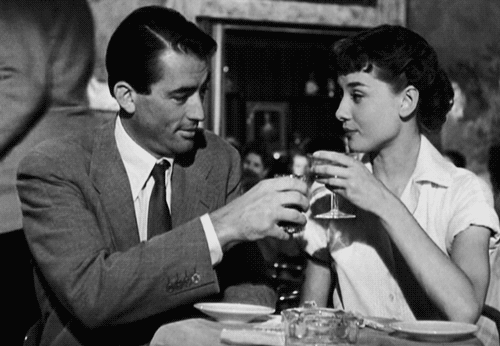 Part of why Hepburn was cast for the role of Princess Ann was because the director, William Wyler, was in search of an actress who was aesthetically far removed from the popular curvy Italian woman trope. The extremely petite Audrey Hepburn–with her waify frame, preference for flat shoes, and absence of voluptuous cleavage–made her the perfect little "martian" to stick out in a 1950s Roman cinematic landscape.
Edith Head was enlisted to design the film's costumes. The task required dressing Audrey Hepburn as an off-duty royal, a princess disguised as a random girl in the park. In a video explaining her creative decision-making process, Head explained:
"You see, she's supposed to be a princess disguised as an ordinary girl on the streets of Rome. So we made her a simple costume, so she wouldn't look different."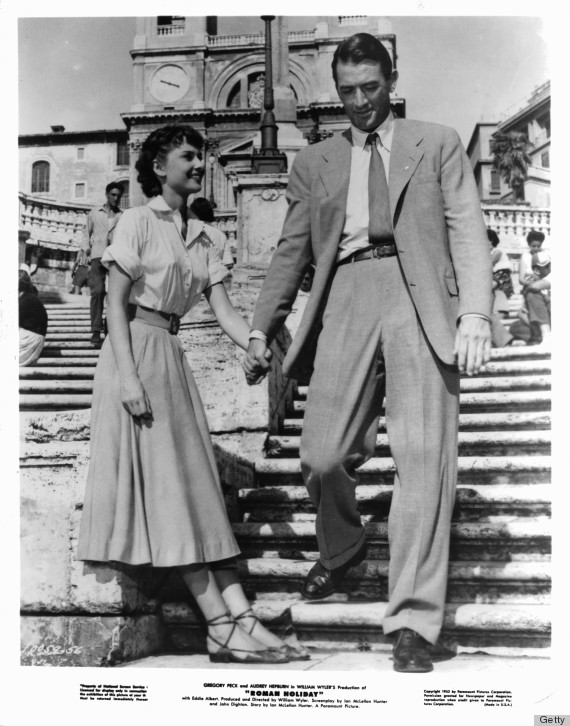 The video shows Hepburn doing a little twirl in the first wardrobe test for Roman Holiday wearing a crisp white long-sleeve button-up shirt and a plain belted midi skirt. As Head explains her decisions, we see Hepburn rolling up her long white sleeves so they become casually bunched up onto the upper arm.
The thinking here was that the film took place in the summertime in Rome, where it would be hot and humid. Head reasoned that an "ordinary" girl cruising around Rome in summer would probably roll her sleeves up so cool off.
The clip goes on to show Hepburn's wardrobe test for the princess look. Instead of the obvious indications of royalty, like ostentatious jewels (though she does wear a beautiful necklace) or a tiara, she wears a shapely and distinguished dress made of authentic white lace. "In other words, the type of dress that a real princess would wear under similar circumstances, in a similar locale," Head notes, "this is what we call transformation through wardrobe."